FogScreen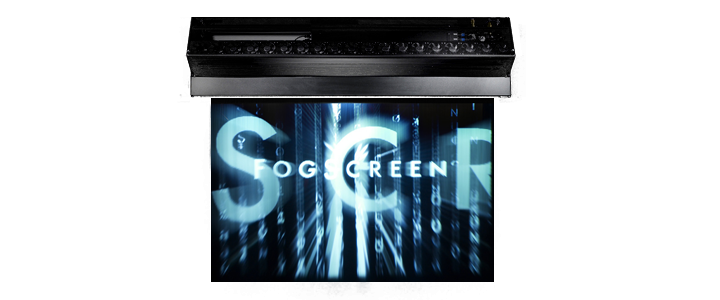 FogScreen, produces a thin curtain of "dry" fog that serves as a translucent projection screen, displaying images that literally float in the air.
New advertising medium that can not miss!
Projection screen based on water-based, no added chemicals.
This stunning projection screen is so dry that you can touch it, stand in it, or even walk right through it.
Technology:
Our revolutionary product, projection screen FogScreenTM, produces a thin curtain of "dry" fog that serves as a translucent projection screen, displaying images that literally float in the air..
The result is amazing pictures commanding your attention – this is why FogScreen is used so often at product launches, trade fairs, corporate events, fashion shows, in restaurants, cinemas, night clubs, museums, casinos, and similar events.
First effective projection wall in the world that satisfied people's desire to be entertained and excited by a message concealed behind the logo of the advertisement sponsor. If installed in the right place, e.g. at an entrance to a building, every participant must pass through a picture with an advertising message. This experience is so novel that the message is recalled by the visitor much longer.
CONCEPT
It's as simple as it's amazing. Using water from the faucet and ultrasound FogScreen machines use a patented technology to produce a fine stream of fog air capturing pictures as if it were a projection screen. You can walk right through FogScreen without getting wet. The microscopic particles of fog are as dry to the touch as the air.
AWARDS
Bottom Line Design Award 2007 in the category Promotion
Club World Award 2007 for the Best Effect
TESA (The Event Services Association) Award 2006 for Innovation
European Award IST 2005
Plasa Award 2005 for Innovation
First prize at Laval Virtual 2004 competition
InnoSuomi 2003
INTERACTIVITY
The added interactive features of the FogScreen projection screen enable your hand to write and draw in the air. You use your fingers as a pointer. This is possible because the system uses a laser sensor to monitor hand movements, which means the user's finger becomes the mouse. This changes the passive projection screen to an interactive touch screen and this expands vastly the scope of its possible application.
Models INIA and ONE
SCREENRENTAL sells and rents one model of projection wall FogScreenTM under the name Inia. The FogScreen projection screen Inia is an original screen 2 meters wide. An alternative is projection wall FogScreen One, which is one meter wide and can be seamlessly joined to form larger units. This model is only available in the Czech Republic for fixed installations.
Interactive FogScreen
Interactive FogScreen projection made by our lasertouch sensor and application.